Regular price
Sale price
$32.00
Unit price
per
Sale
Sold out
Handmade In Italy
Sustainable Materials
Waterproof & Skin-Safe
Inspired by the profound interconnectedness of souls and the threads of destiny, each link in this delicate ring symbolizes the unseen yet powerful connections that bind souls and shape destinies.
Wearing this delicate ring serves as a constant reminder of the intricate tapestry of life and the unbreakable bonds that guide our journey. Just as the circle has no beginning and no end, this ring signifies the infinite nature of our destinies and the continuous flow of experiences that shape our existence.
Within the graceful chain, three to four small red coral beads add a touch of vibrant elegance. These beads, sustainably sourced, represent moments of passion and vitality that intertwine along the path of fate.
Like with all our coral jewelry, there is only a limited quantity of these rings in stock and they will never restock!
We will never buy new coral due to its impact on the ecosystem of our precious oceans.
Be quick to not miss your chance on maybe the only truly sustainable red coral ring on the planet!
Details

The coral beads vary in length from less than 2mm up to 3mm

Some elements are crafted from recycled metals, while others are sustainably and ethically sourced.

The coral beads have been repurposed, offering the most sustainable and environmentally-friendly choice for coral jewelry.
Care Guide
Find Your Ring Size
What Is Gold Filled?
Share
View full details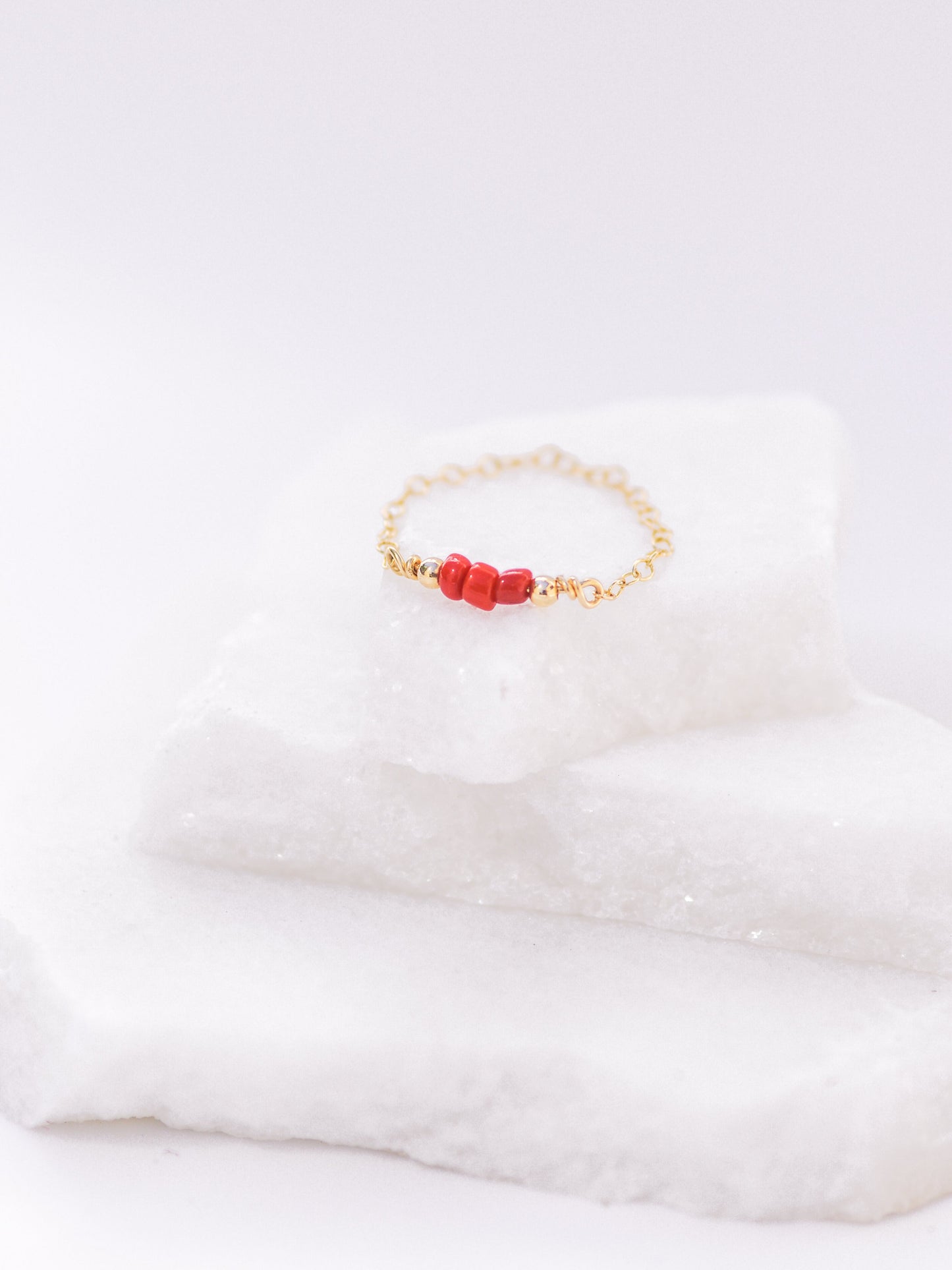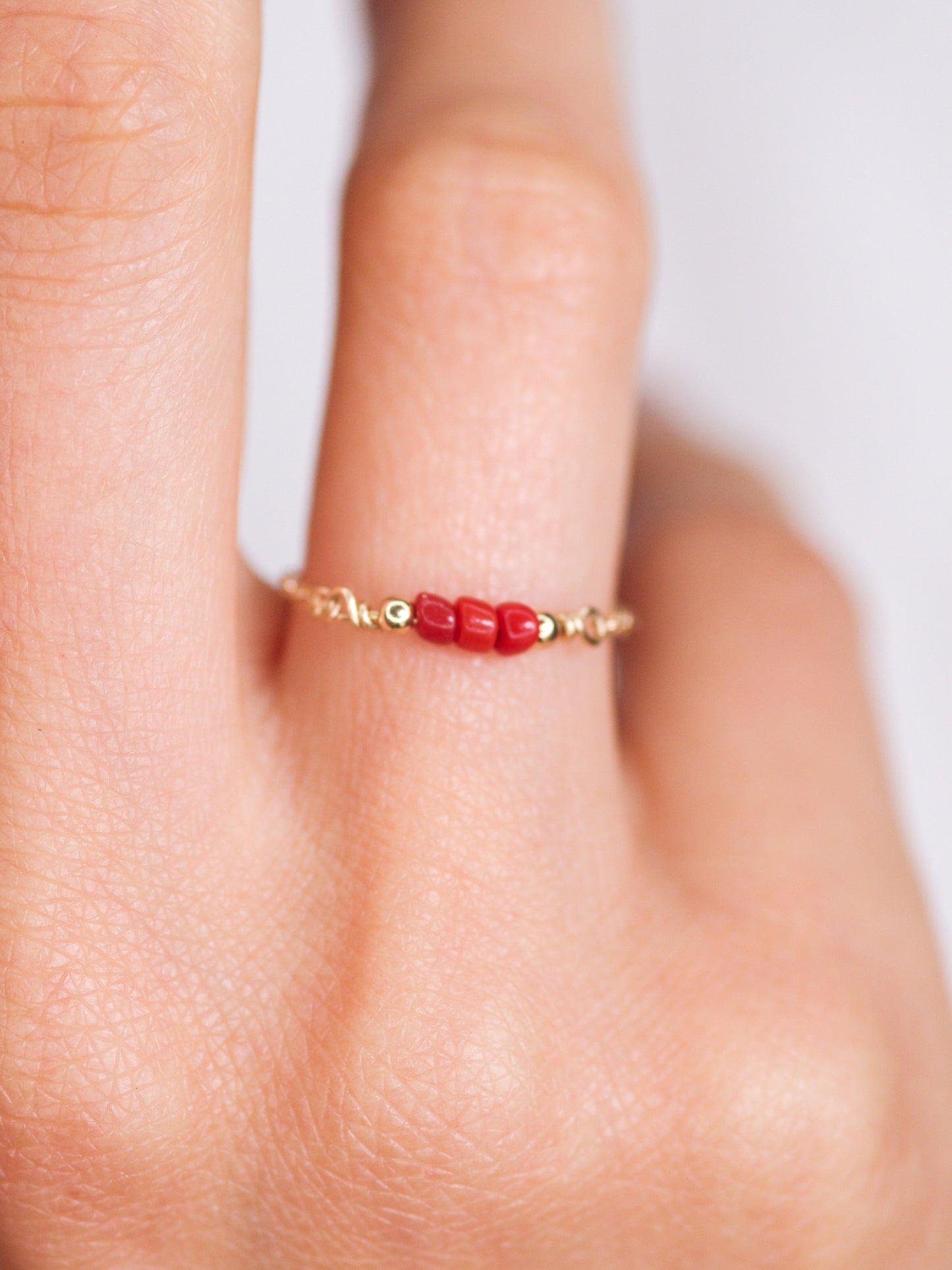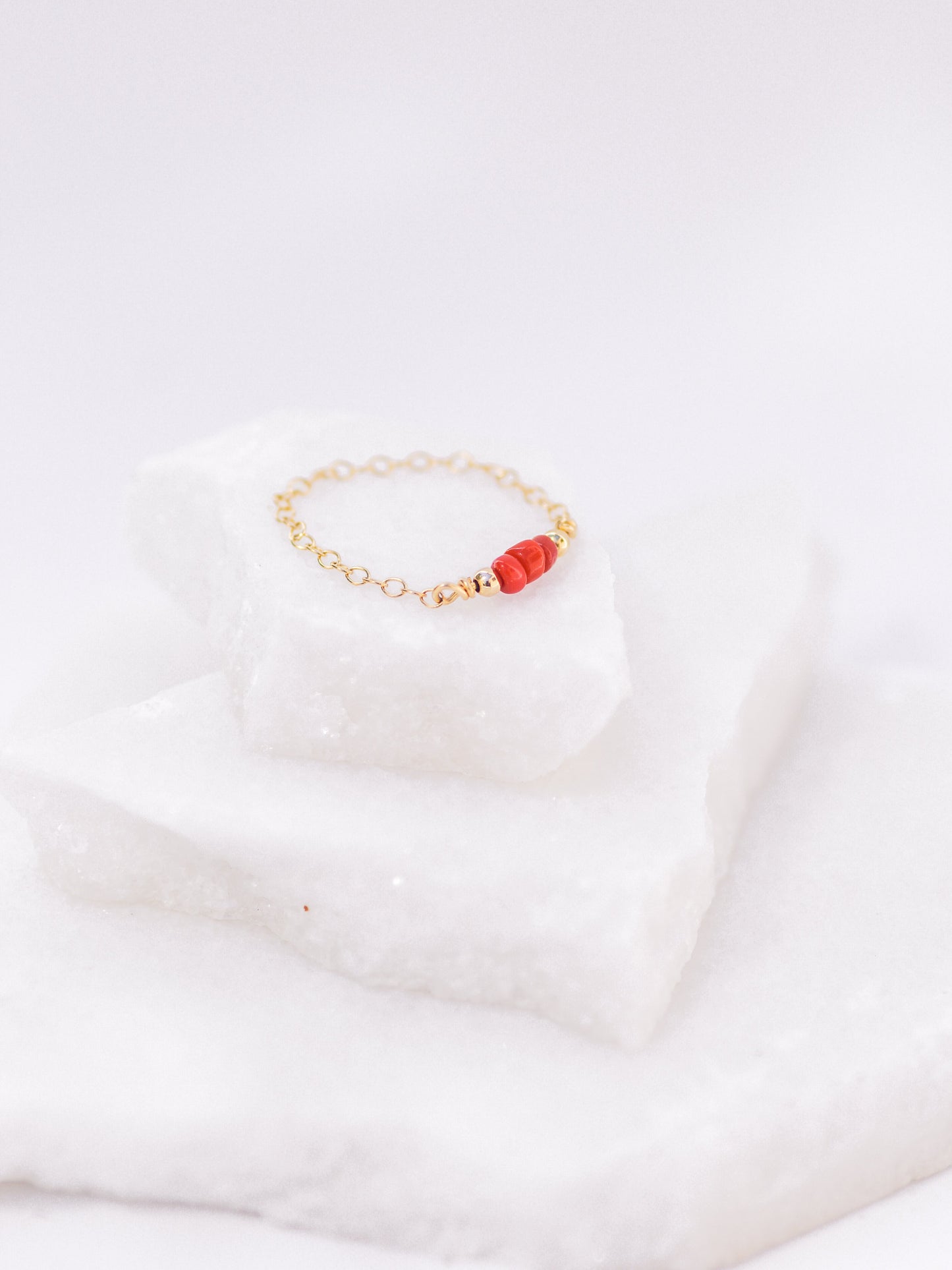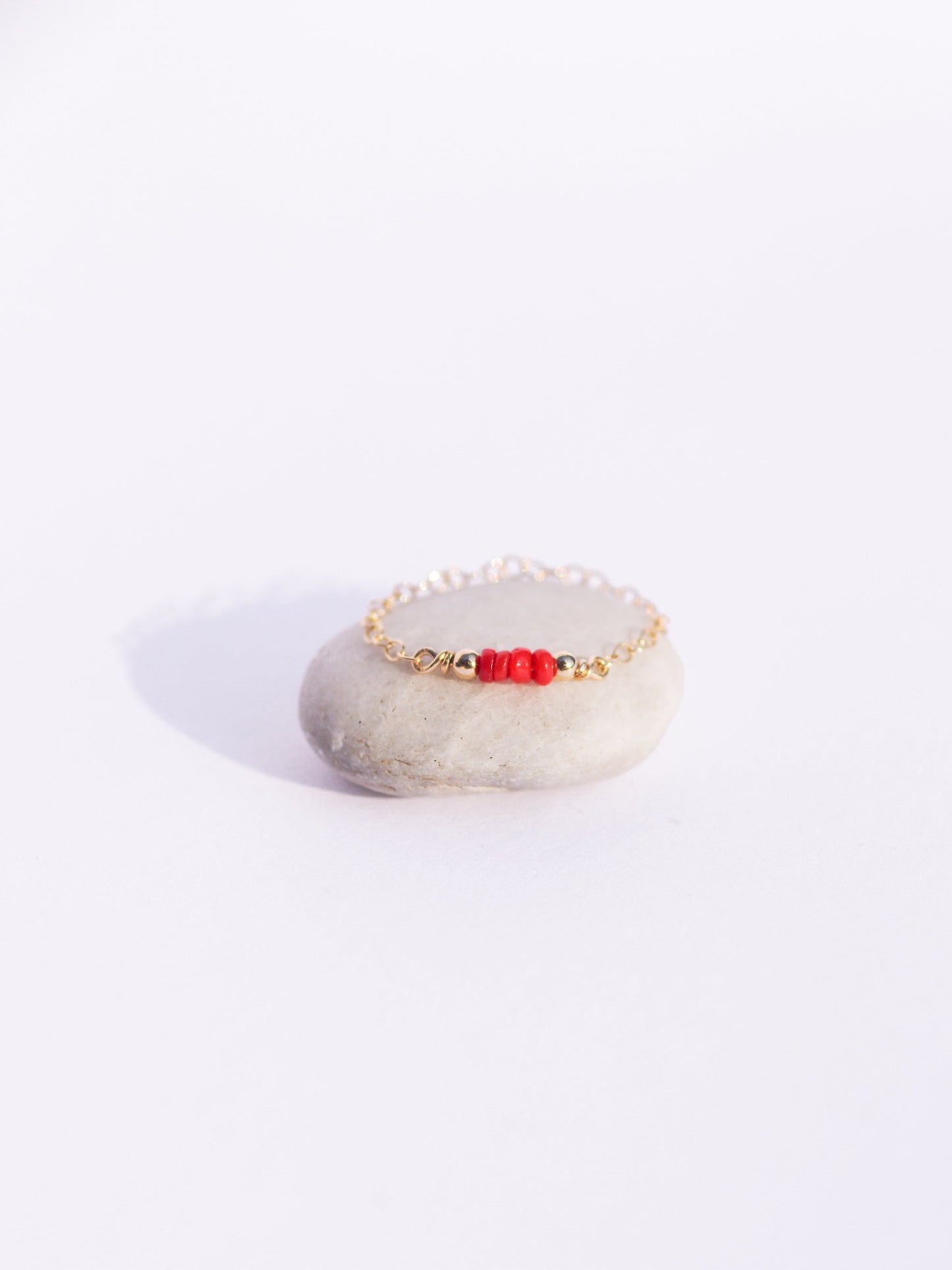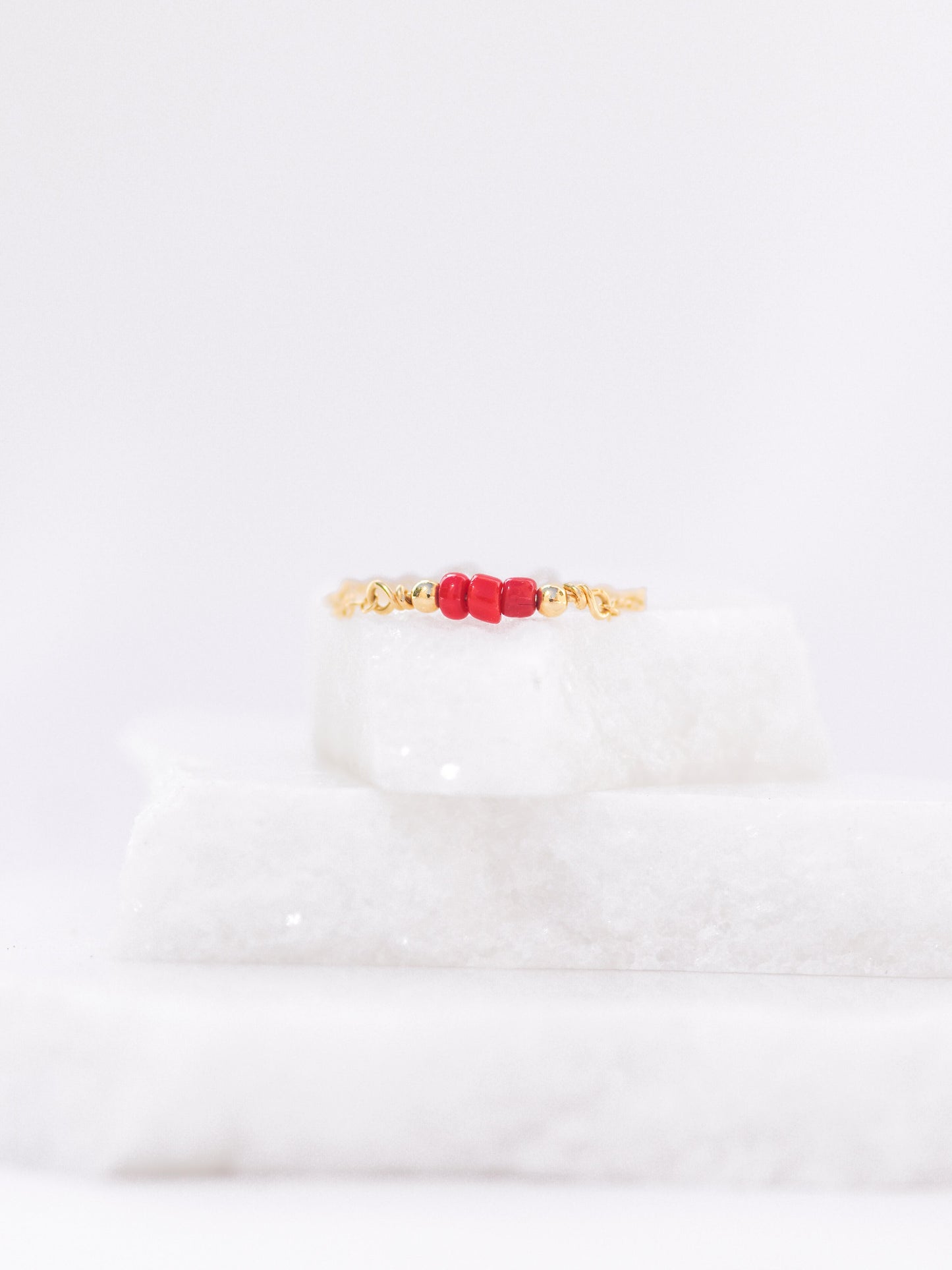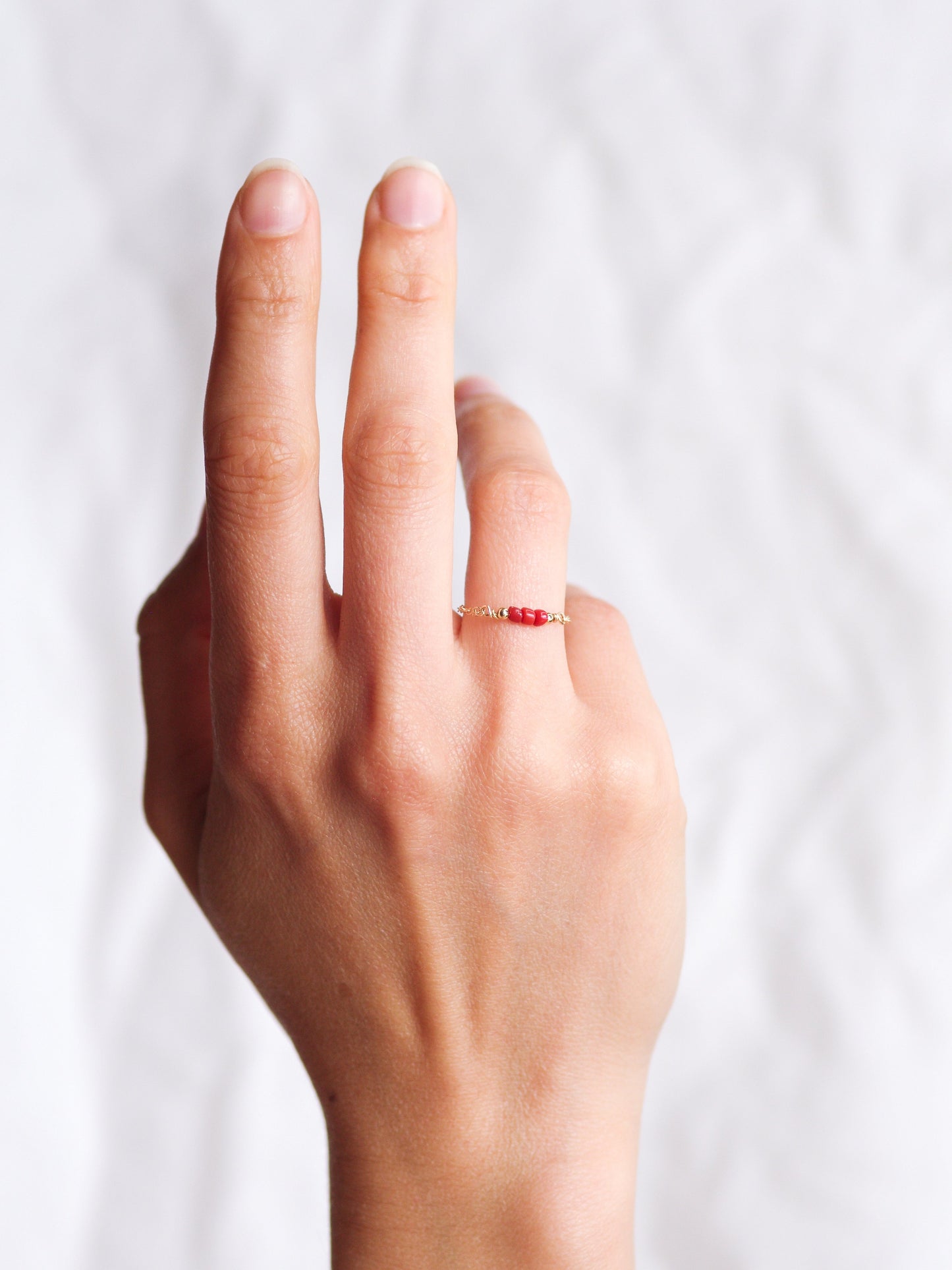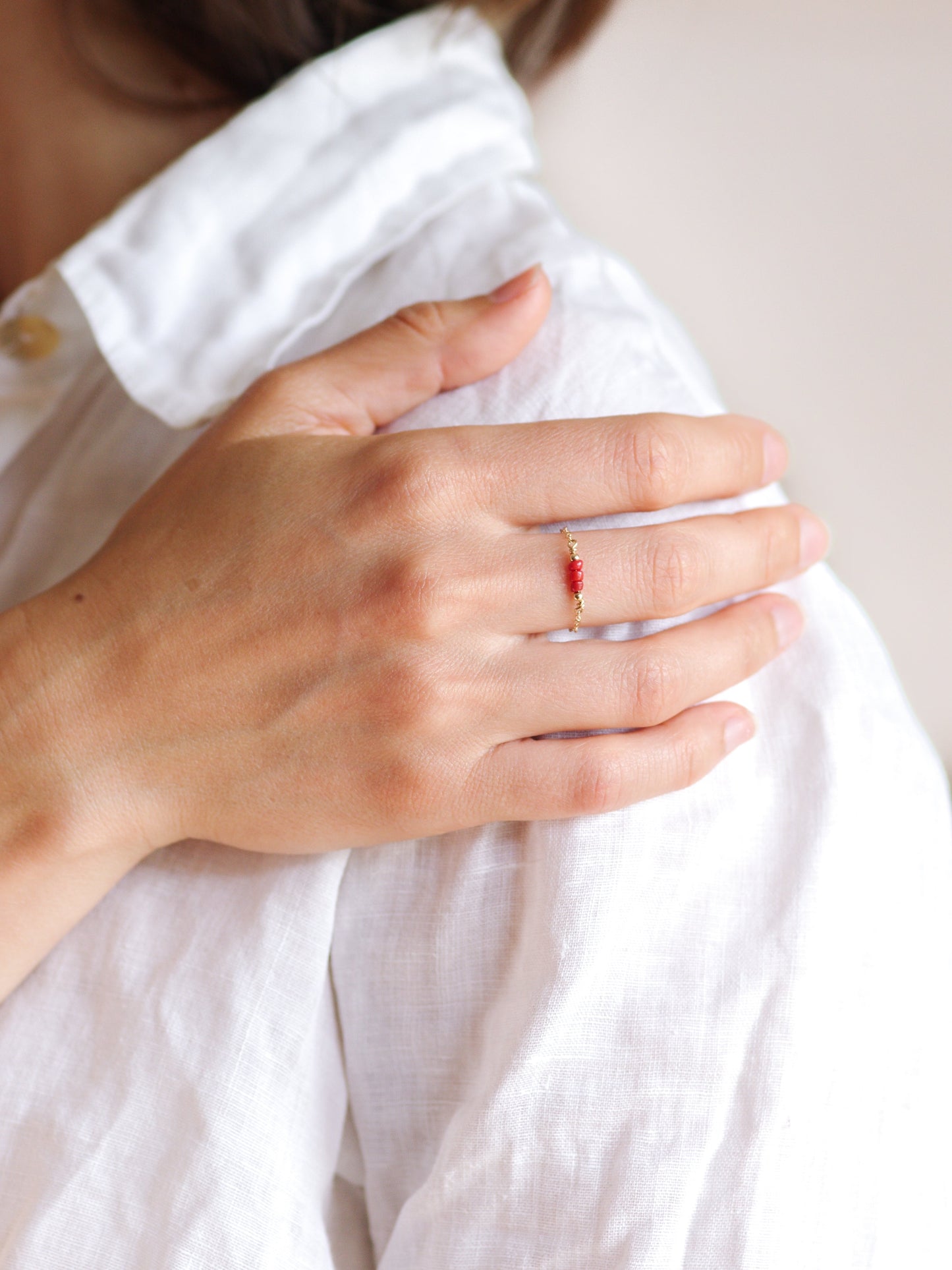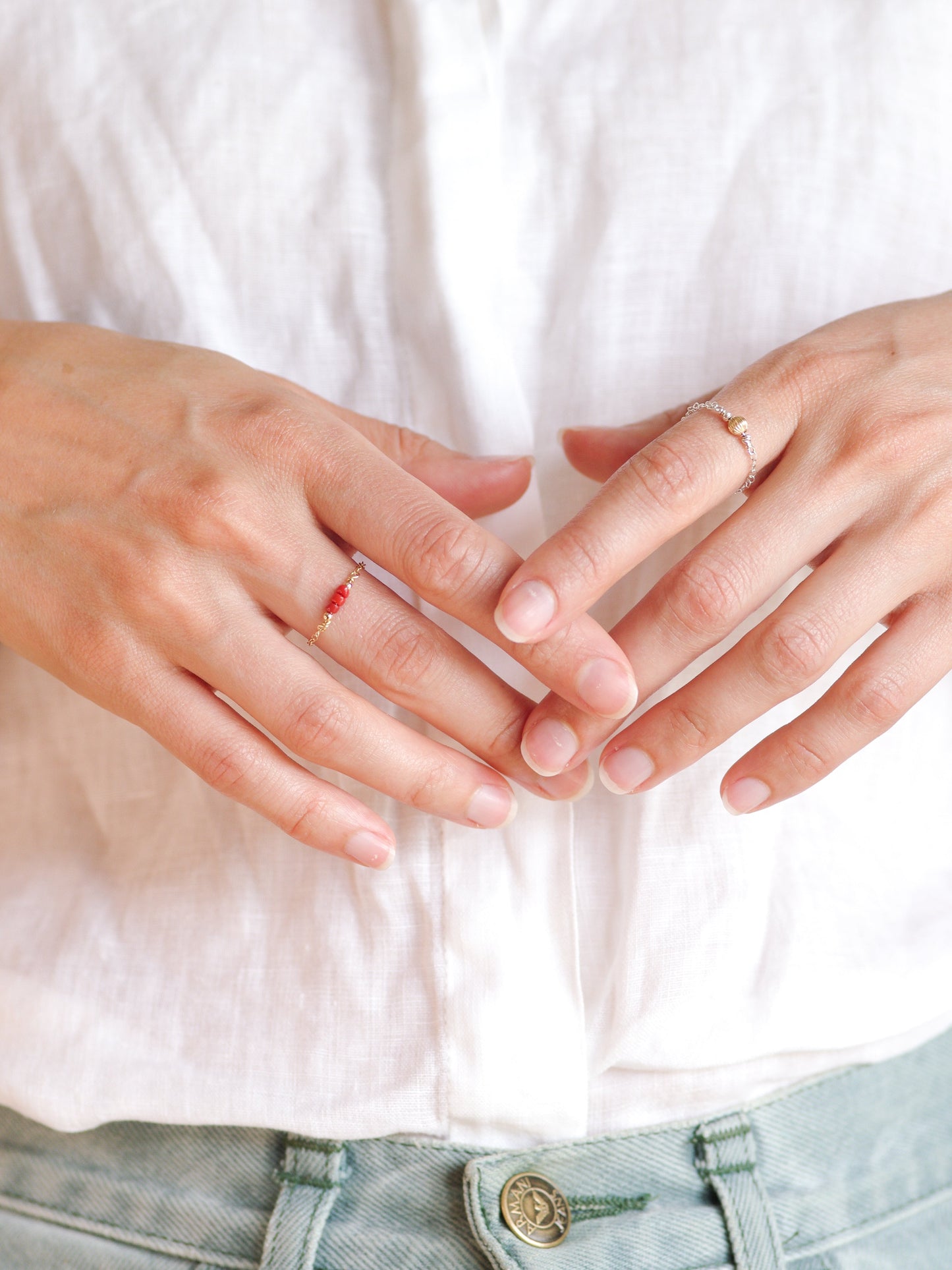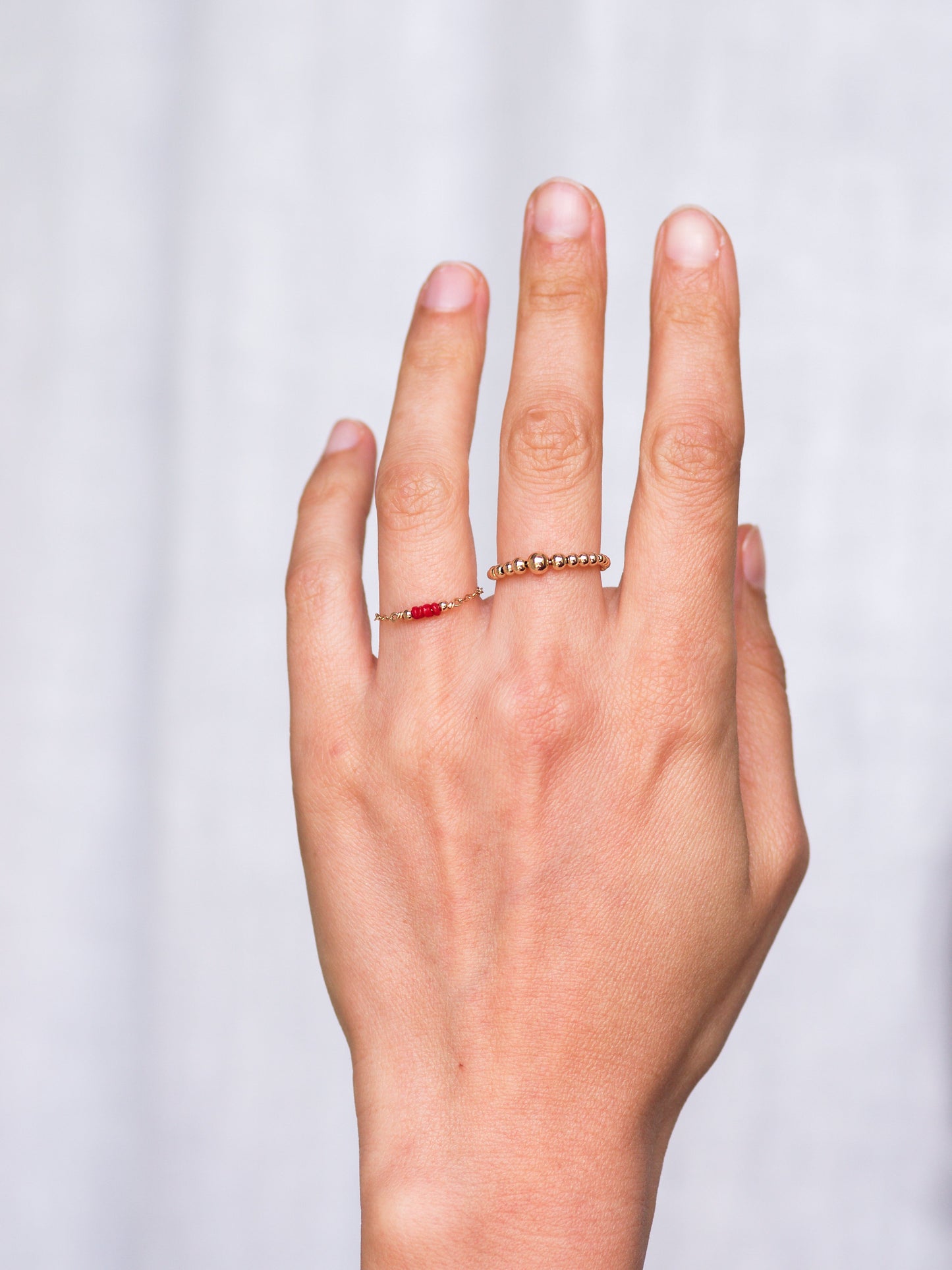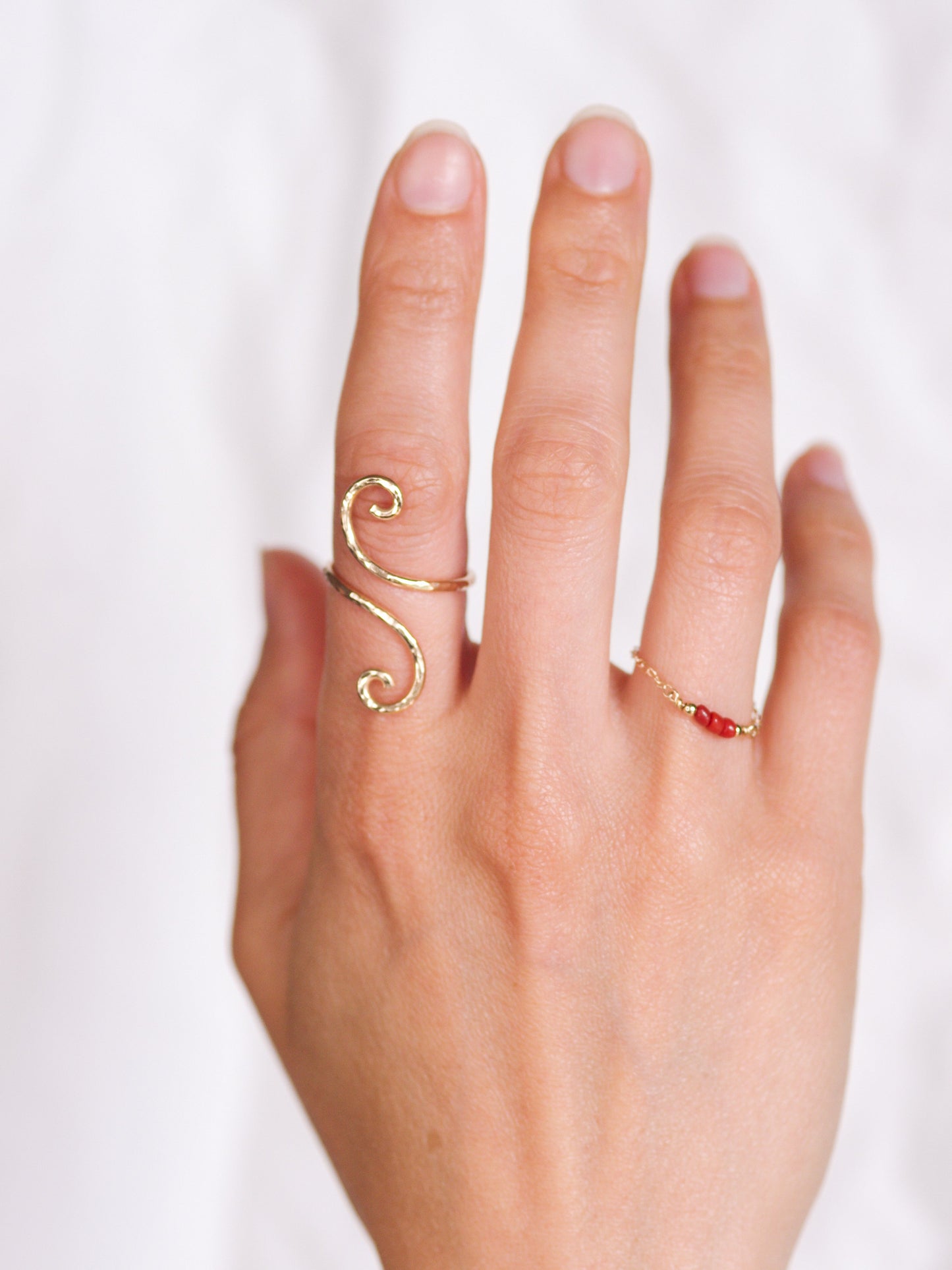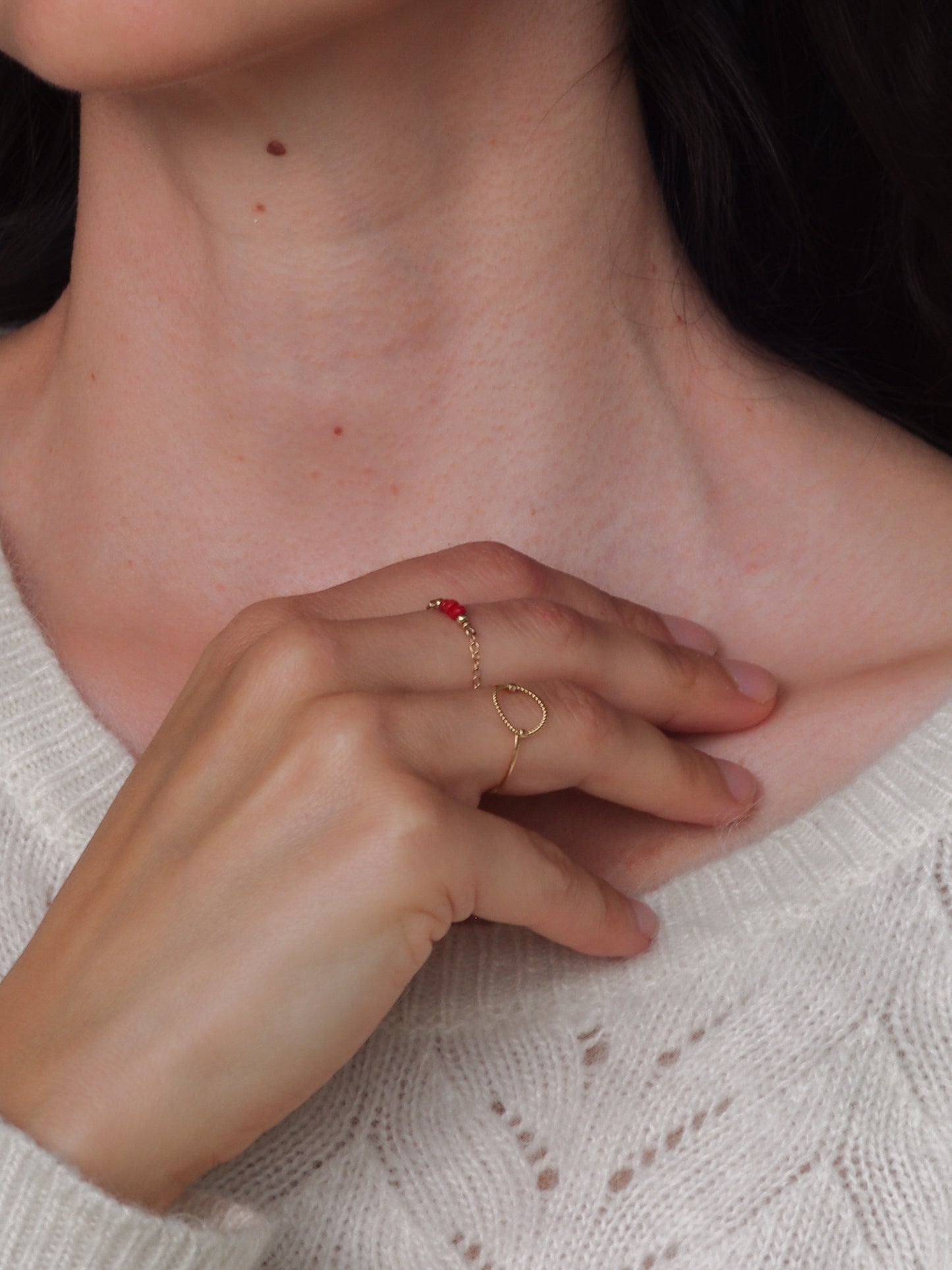 Designed & Handmade in Italy
 We make our jewelry for modern women like you, who live consciously and seek jewelry that reflects their unique style.
Designed and made in Italy, each piece draws inspiration from the beauty of nature and the power of love.
Our designs celebrate the interconnectedness of life, the sacredness of nature and the beauty of being human.
Our values guide every step of our process, because we understand that true beauty can never be created at the expense of people or the environment.
Handmade with devotion, our jewelry may bear imperfections, but it's these very imperfections that breathe life and character into each piece, making it as unique and exceptional as the women who wear it.
Sustainable Metals, Gemstones & Pearls
At Rays & Riches, we're on a mission to create stunning and profoundly sustainable jewelry, rooted in our respect for all life and a profound understanding of its interconnectedness.
Our gemstones, sourced ethically from repurposed jewelry, embody this commitment. By reusing existing gems, we contribute to a circular economy, reducing carbon emissions and sidestepping the negative impacts of conventional gemstone mining.
Emphasizing our commitment, even our pearls are repurposed, as conventionally farmed pearls significantly fall short of being truly sustainable.
Our dedication extends to the precious metals we use by offering two sustainable options: recycled metals with a lower environmental impact and ethically sourced metals supporting responsible, mining.
With every piece we create, we aim to showcase the beauty of sustainable jewelry, a reflection of our love for the Earth and our belief in the importance of ethical, responsible practices.
Care for your waterproof Rays&Riches jewelry
Best practices to keep your jewelry looking new for longer.
-Your new jewelry should be stored in a cool, dark, dry place.
-Always make sure your jewelry is clean and dry before putting it away.
-Store your silver and gold-filled jewelry separate from each other and away from jewelry made from cheaper metals, to avoid the metals reacting with each other.
-Regularly use a soft cloth to wipe away dirt, sweat, chemicals etc.
- Avoid exposing your jewelry to skin care products, soaps, detergents and perfumes.  
- Remove your jewelry before doing high impact physical exercise and before entering salt or chlorinated water.
-To deep-clean your jewelry let it soak in a bowl with warm water and a few drops of mild dish-soap. Check wether eventual gemstones are waterproof and make sure to rinse it off afterwards and dry it thoroughly . 
Gold fill is highly resistant to tarnish but still benefits from regular cleaning and polishing.
Removing tarnish is quick and easy with the anti-tarnish-polishing cloth that comes with your order.
What is tarnishing? Read more about it here  
A note on gemstones.
Most gemstones in our collection are waterproof and safe to clean with diluted, mild dishwashing soap, although plain water is usually sufficient. An exception are porous or soft gemstones like coral, turquoise and amber.
We recommend to regularly wipe your gemstones clean with a soft cloth and only use water&soap when absolutely necessary and never with soft & porous gemstones.
Find your ring size
Our rings cover a wide range of sizes, from 'A' for the smallest to 'Z+'2 for the largest.
If you don't know your ring size or need help converting our ring sizes, follow this link.
If you require a size outside of our available range, please contact us. All our rings are made to order in-house, meaning we can always meet your specific size requirements.
What Is Gold Filled ?
Gold-filled jewelry is not gold plated!
It is much higher quality, suitable for sensitive skin, long lasting and waterproof.
Gold filled jewelry contains a substantial amount of gold, with over 100 times more gold than gold plated or vermeil jewelry. By legal standards, the gold layer in gold filled jewelry must make up at least 5% or 1/20 of the total weight.
This not only ensures longevity but also renders gold filled jewelry hypoallergenic, making it a safer choice for those with sensitive skin.
Gold fill is also a more environmentally friendly option compared to gold plated or gold vermeil.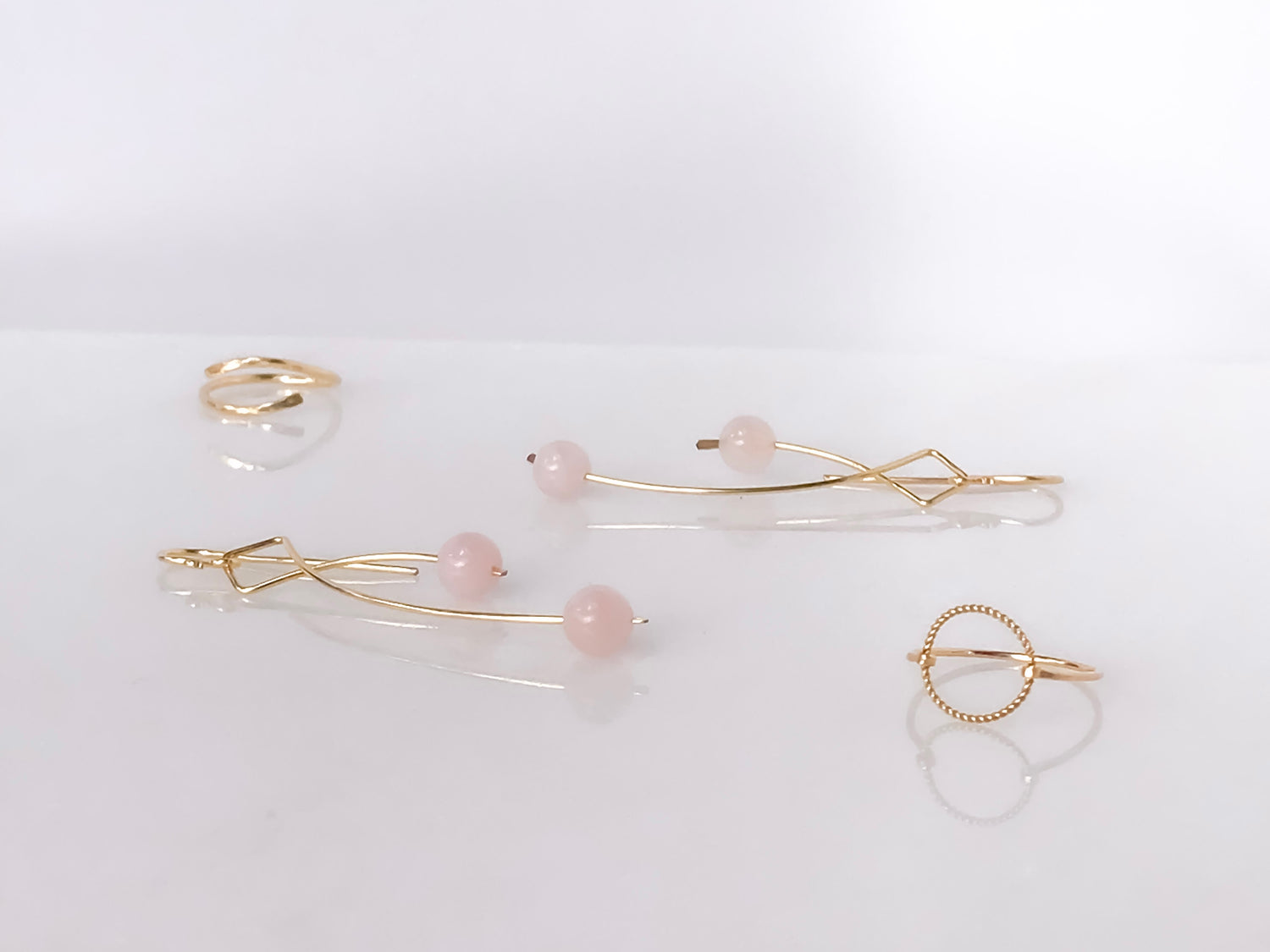 Our Warranties
Secure Payments

You can pay with Paypal, Debit or Credit Card or Bank Transfer.

24/7 Customer Support

Our team is available on Whatsapp 24/7.

14 Days Money Back Guarantee

You can return your order within 14 days for any reason.