Regular price
Sale price
$97.00
Unit price
per
Sale
Sold out
Handmade In Italy
Sustainable Materials
Waterproof & Skin-Safe
Modern earrings with a minimalist design and maximum effect.
They're perfect for a meeting with your business partners, brunch with your favourite people or to pick the kids up from school.
Style them with a high pony tail, a sharp blouse or your sweats, they'll instantly make you look put together!
Your new favourite chain & circle earrings can be worn in many different ways:

Change the length of the chain by wrapping it around the circle.
The chain is detachable so you can also just wear the circle on its own.
Or wear more chains on the same side.
There is not limit to your creativity!
Details

Total length about 7.7cm (3.03 inch)

Gemstone: repurposed light pink coral, about 1cm diameter (0.4 inch)

The gemstones for these earrings have been repurposed, making it the most eco-conscious choice for gemstone jewelry.

Some elements are crafted from recycled metals, while others are sourced sustainably and ethically.

Gold-filled jewelry is superior to gold plated jewerly both in quality and durability, and allows you to enjoy the beauty and elegance of solid gold at a fraction of the price.

Care Guide
What Is Gold Filled?
Share
View full details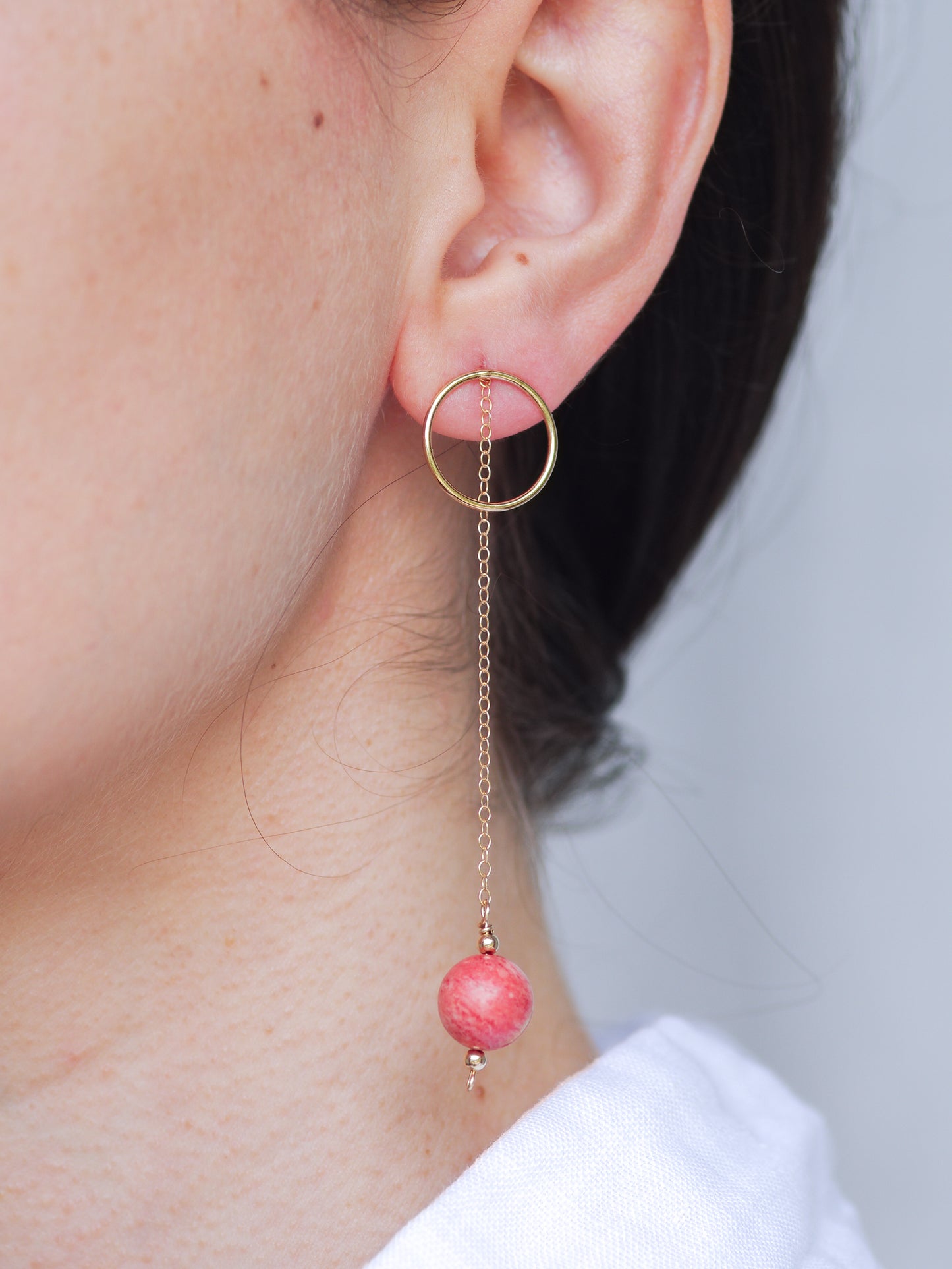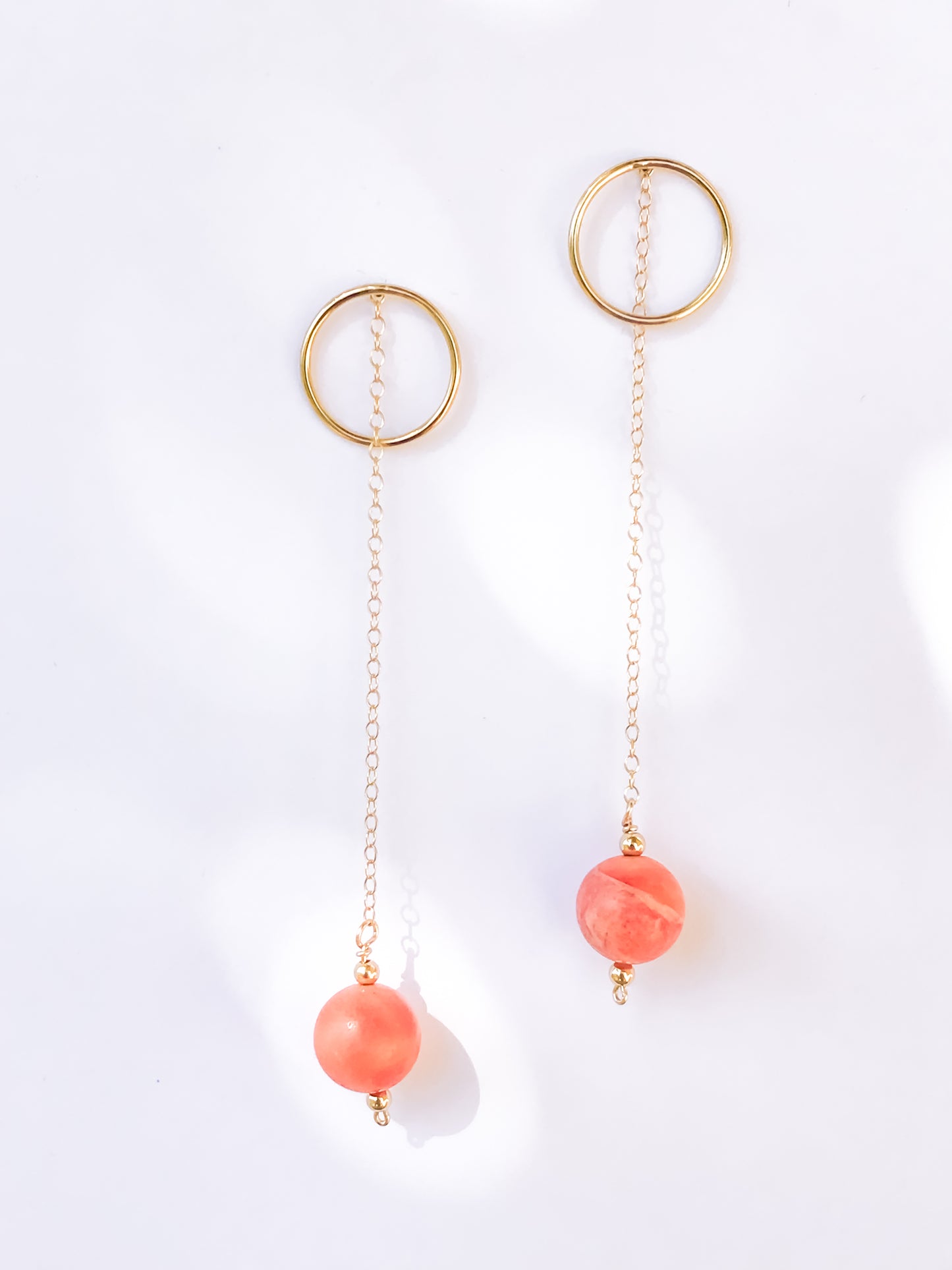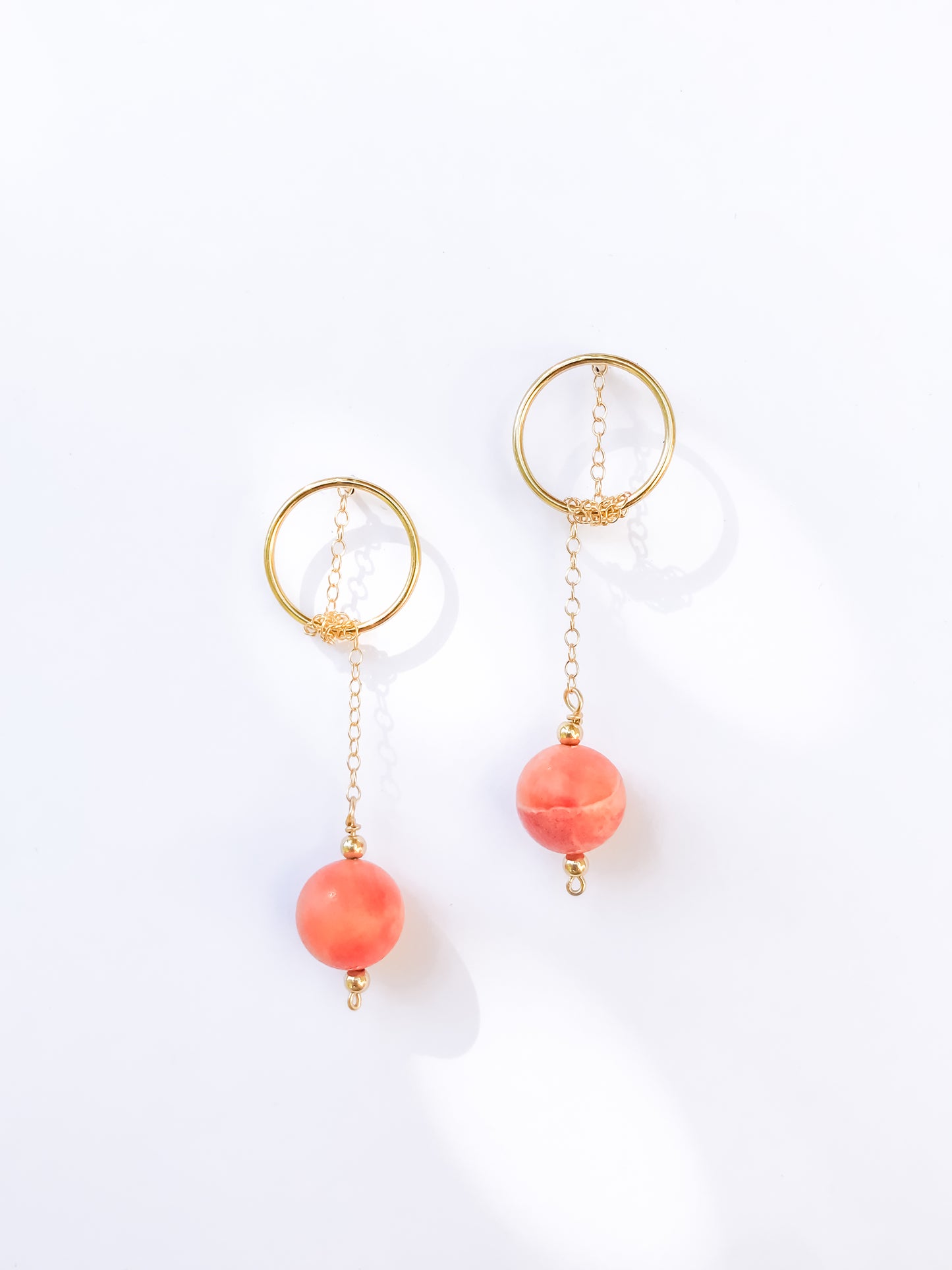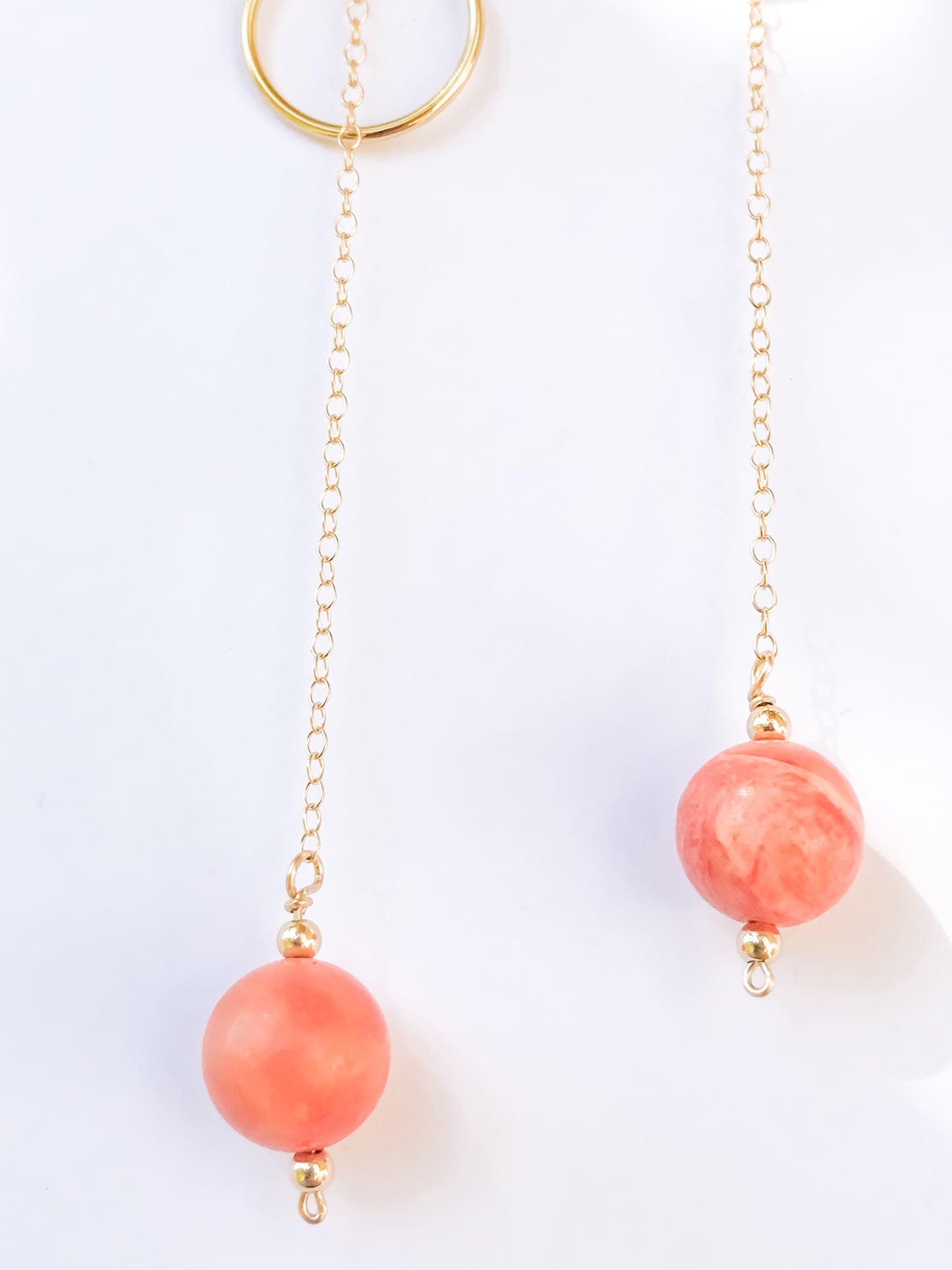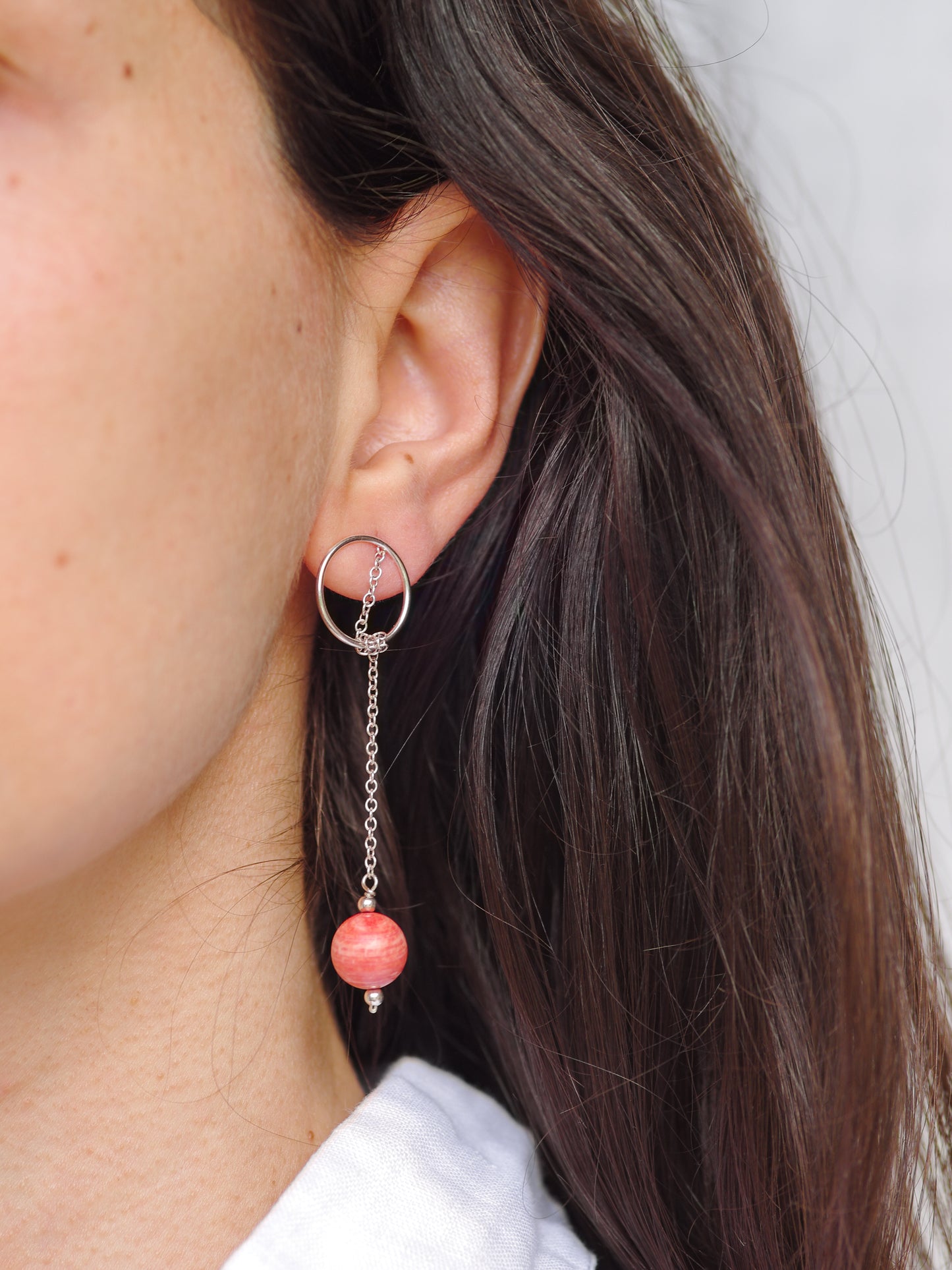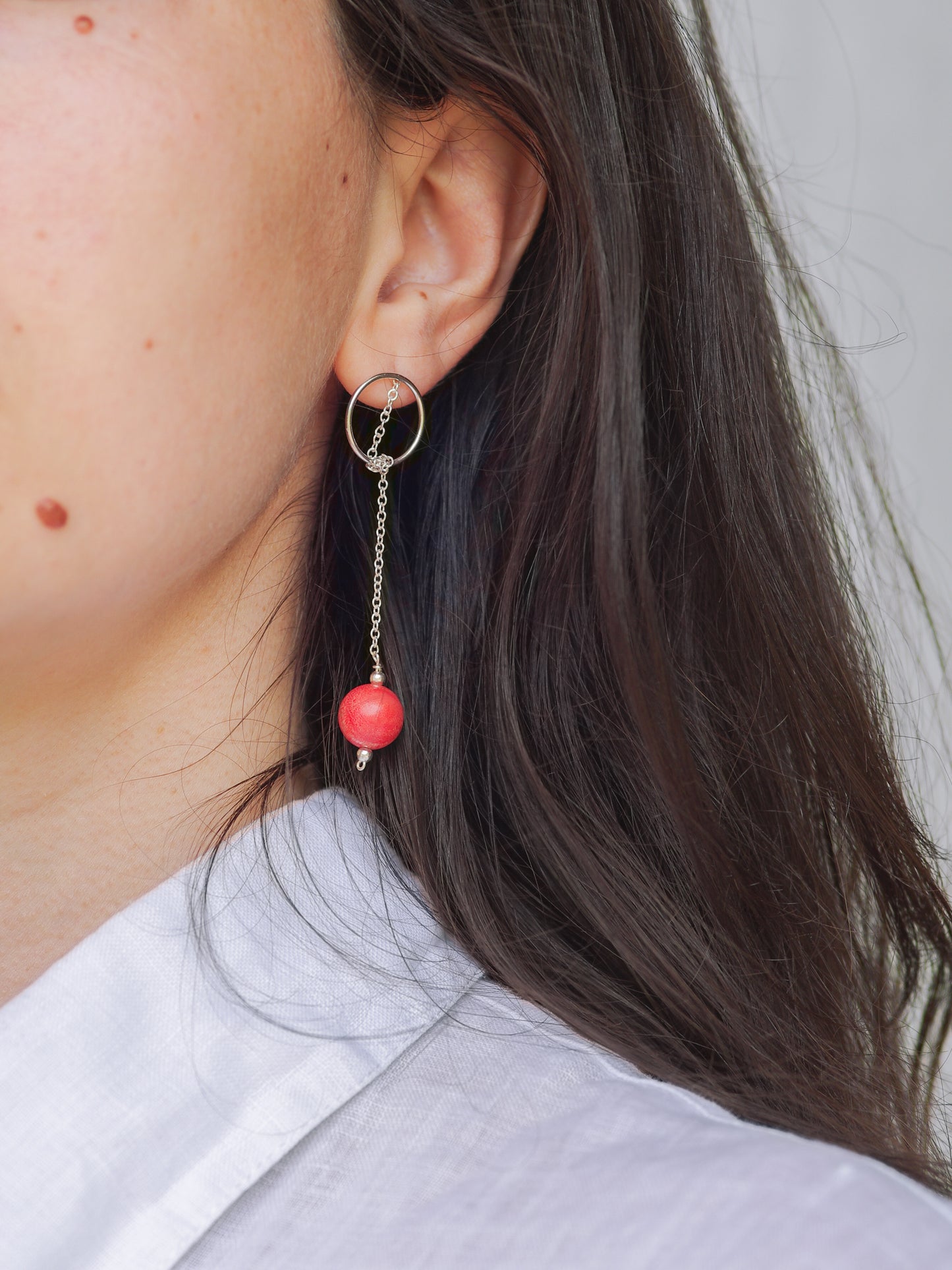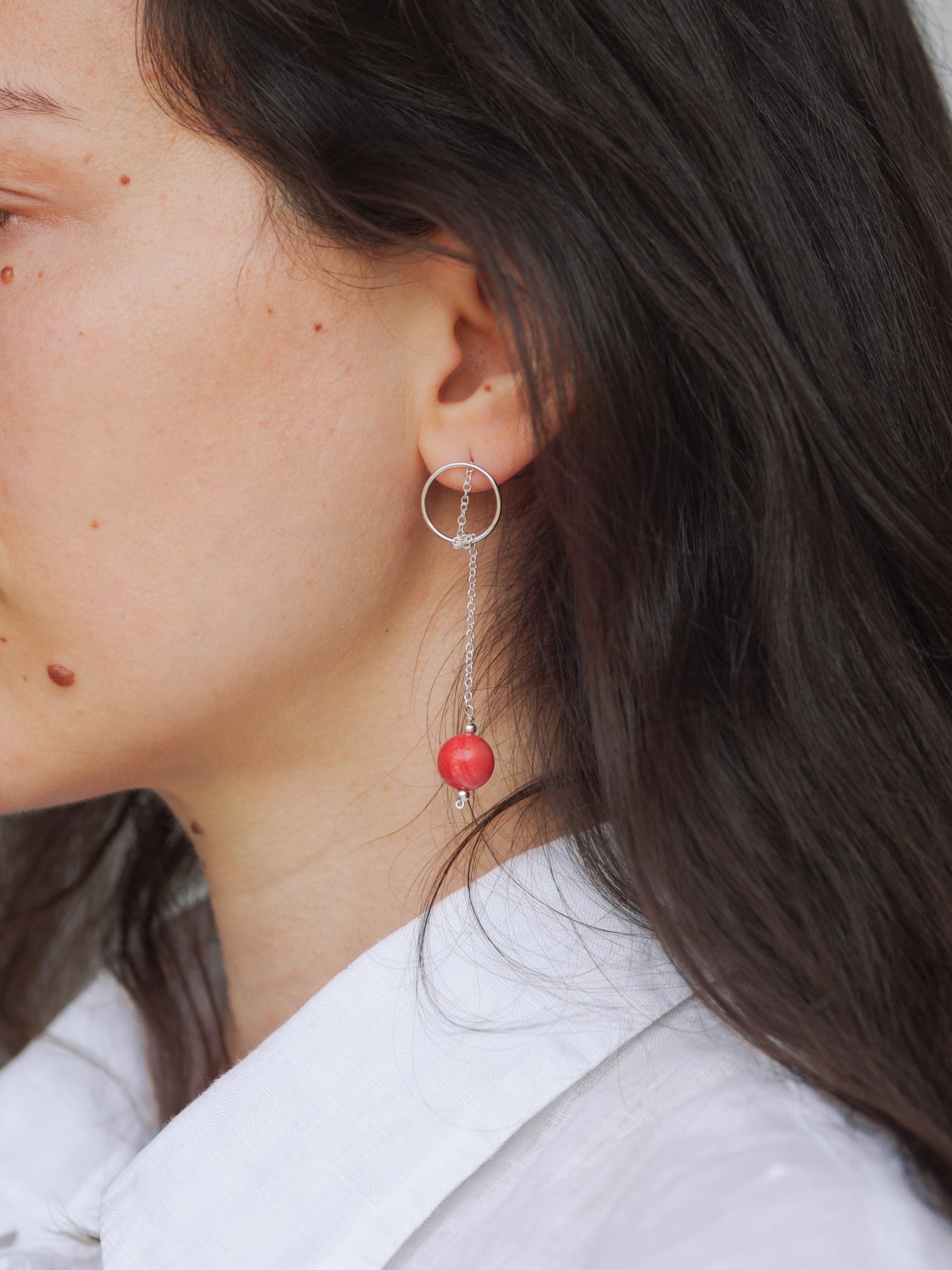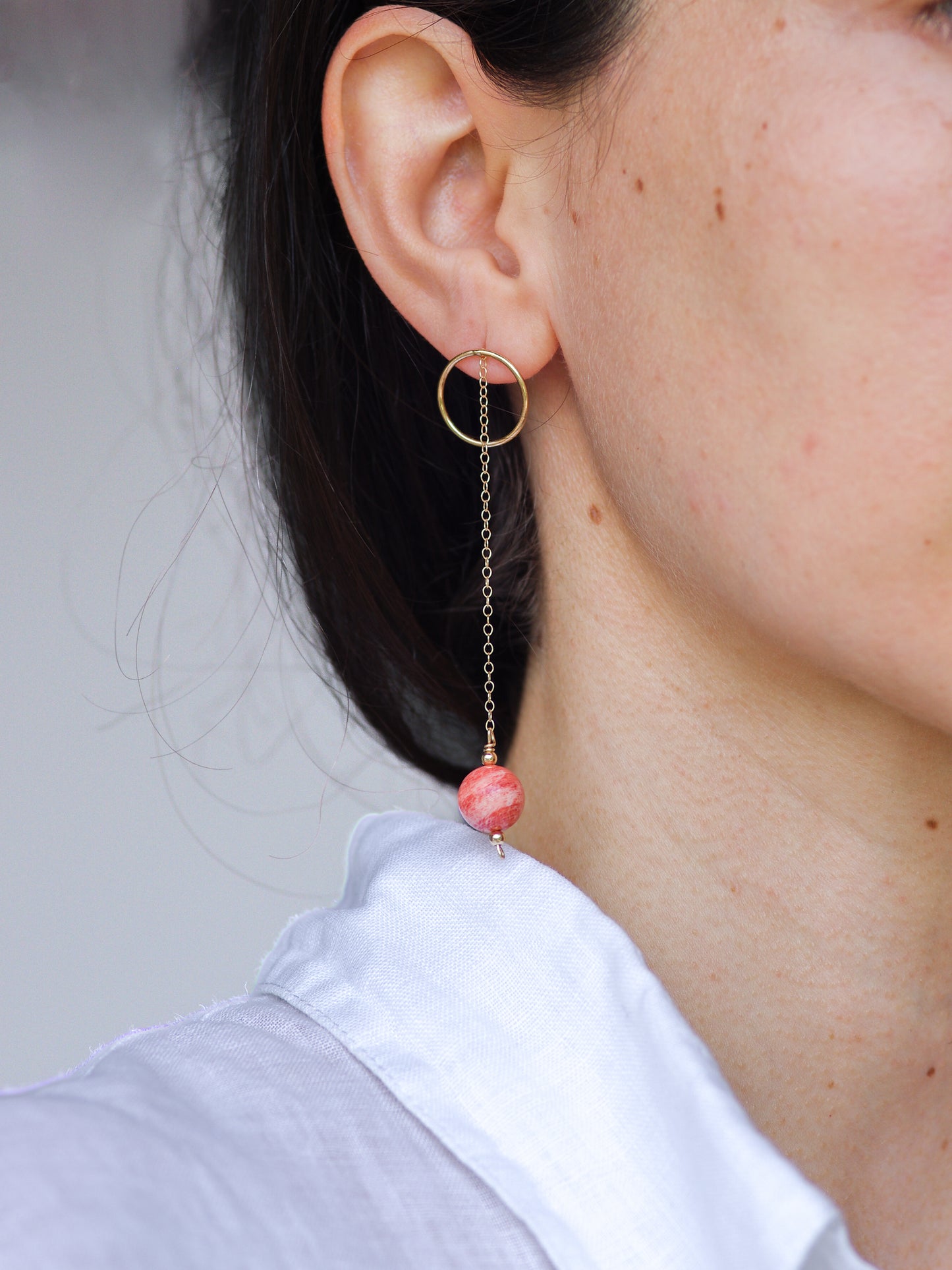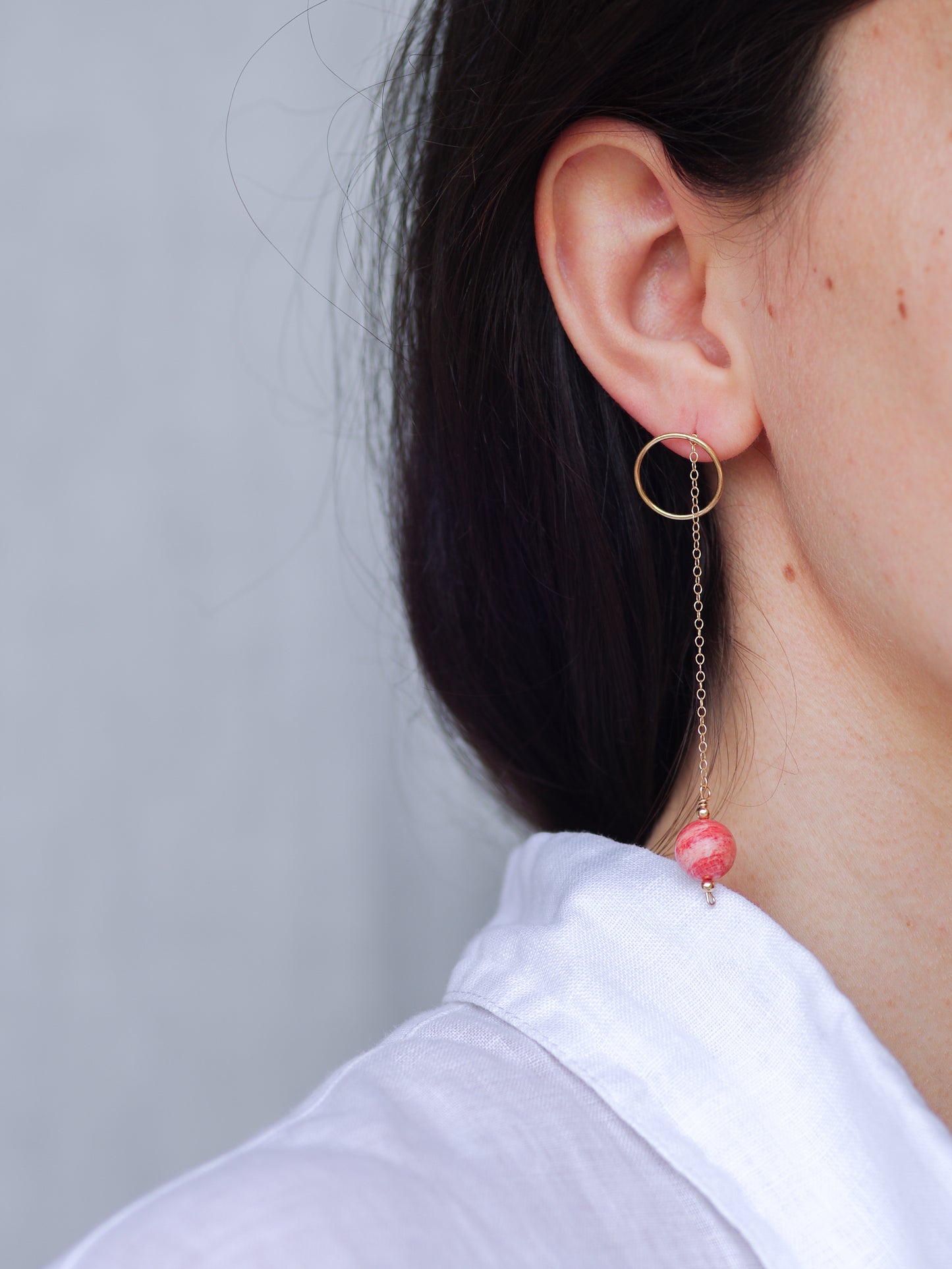 Designed & Handmade in Italy
We make our jewelry for modern women like you, who live consciously and seek jewelry that reflects their unique style.
Designed and made in Italy, each piece draws inspiration from the beauty of nature and the power of love.
Our designs celebrate the interconnectedness of life, the sacredness of nature and the beauty of being human.
Our values guide every step of our process, because we understand that true beauty can never be created at the expense of people or the environment.
Handmade with devotion, our jewelry may bear imperfections, but it's these very imperfections that breathe life and character into each piece, making it as unique and exceptional as the women who wear it.
Sustainable Metals, Gemstones & Pearls
At Rays & Riches, we're on a mission to create stunning and profoundly sustainable jewelry, rooted in our respect for all life and a profound understanding of its interconnectedness.
Our gemstones, sourced ethically from repurposed jewelry, embody this commitment. By reusing existing gems, we contribute to a circular economy, reducing carbon emissions and sidestepping the negative impacts of conventional gemstone mining.
Emphasizing our commitment, even our pearls are repurposed, as conventionally farmed pearls significantly fall short of being truly sustainable.
Our dedication extends to the precious metals we use by offering two sustainable options: recycled metals with a lower environmental impact and ethically sourced metals supporting responsible, mining.
With every piece we create, we aim to showcase the beauty of sustainable jewelry, a reflection of our love for the Earth and our belief in the importance of ethical, responsible practices.
Waterproof And Safe For Sensitive Skin
All Rays of Riches jewelry is waterproof because we craft them with premium materials such as 14k gold fill, 18k solid gold, argentium silver, and 925 sterling silver.
This not only elevates the elegance of our pieces but also ensures their innate water-resistant quality, distinguishing them from cheaper, plated metals.
So you can wear our jewelry confidently, whether you forget to remove it before showering or when washing your hands; Your jewelry investment is set to retain its beauty over time, with no worries about color fading.
Furthermore, our unwavering commitment to using only the highest-quality, nickel-free materials makes our jewelry hypoallergenic, offering you both lasting beauty and the comfort of knowing it's safe for your skin.
Care for your waterproof Rays&Riches jewelry
Best practices to keep your jewelry looking new for longer.
-Your new jewelry should be stored in a cool, dark, dry place.
-Always make sure your jewelry is clean and dry before putting it away.
-Store your silver and gold-filled jewelry separate from each other and away from jewelry made from cheaper metals, to avoid the metals reacting with each other.
-Regularly use a soft cloth to wipe away dirt, sweat, chemicals etc.
- Avoid exposing your jewelry to skin care products, soaps, detergents and perfumes.  
- Remove your jewelry before doing high impact physical exercise and before entering salt or chlorinated water.
-To deep-clean your jewelry let it soak in a bowl with warm water and a few drops of mild dish-soap. Check wether eventual gemstones are waterproof and make sure to rinse it off afterwards and dry it thoroughly .
Even with proper storage and care, silver jewelry requires regular polishing with a soft cloth at least twice a year to remove tarnish. 
Gold fill is highly resistant to tarnish but still benefits from regular cleaning and polishing.
Removing tarnish is quick and easy with the anti-tarnish-polishing cloth that comes with your order.
What is tarnishing? Read more about it here  
A note on gemstones.
Most gemstones in our collection are waterproof and safe to clean with diluted, mild dishwashing soap, although plain water is usually sufficient. An exception are porous or soft gemstones like coral, turquoise and amber.
We recommend to regularly wipe your gemstones clean with a soft cloth and only use water&soap when absolutely necessary and never with soft & porous gemstones.
What Is Gold Filled ?
Gold-filled jewelry is not gold plated!
It is much higher quality, suitable for sensitive skin, long lasting and waterproof.
Gold filled jewelry contains a substantial amount of gold, with over 100 times more gold than gold plated or vermeil jewelry. By legal standards, the gold layer in gold filled jewelry must make up at least 5% or 1/20 of the total weight.
This not only ensures longevity but also renders gold filled jewelry hypoallergenic, making it a safer choice for those with sensitive skin.
Gold fill is also a more environmentally friendly option compared to gold plated or gold vermeil.

Stunning little treasures!
I've never had such beautiful earrings before… one can see and feel that they have been created with a lot of heartfelt passion… I will be happy to wear them and will take good care of them so the will last a lifetime! Thank you Manuela for making such amazing jewelry! My very best wishes to you!